I was honoured to be asked to give the keynote speech at the launch today of a new Race Equality Guide for Employers produced by DCU Centre of Excellence for Diversity and Inclusion @DCU_DI
This Guide puts the voices of underrepresented people right at the heart of what it does, and that was a very good reason for me to support its launch! I haven't been involved in its production at all – that credit entirely goes to the team at DCU led by Sandra Healy, to the Race Equality Forum and its partners, and to Linda Keitasha.
You can find the Guide here: http://bit.ly/38SNk8h – a recording of the event will be made available soon too.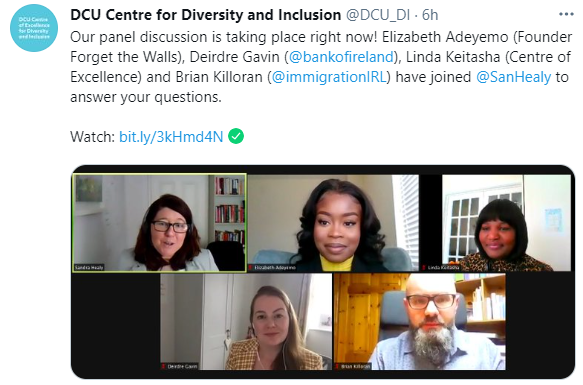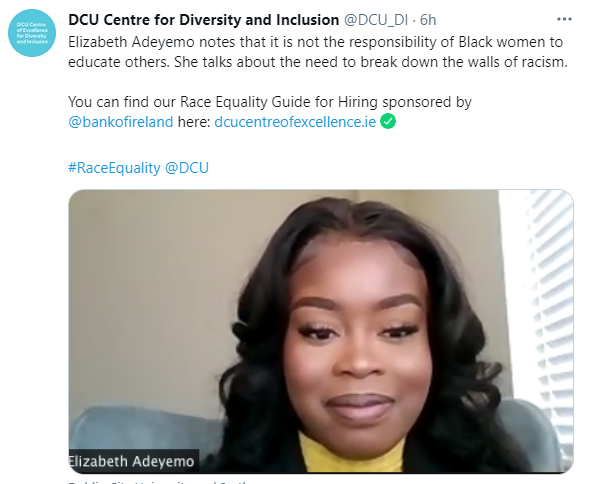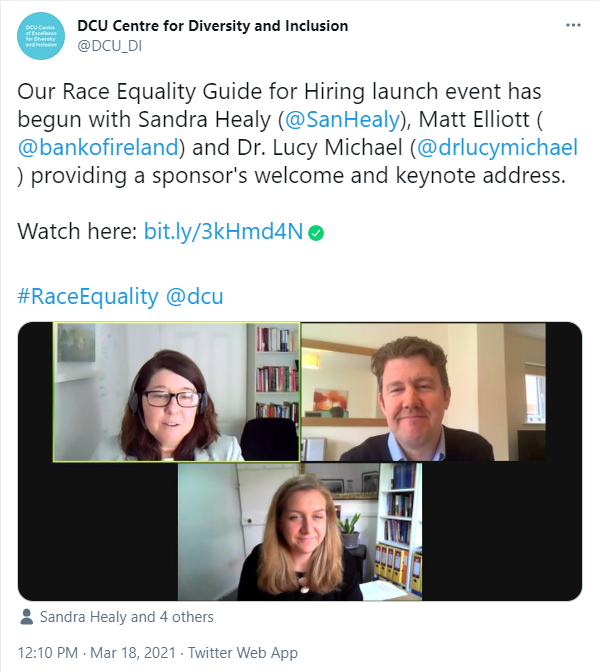 Keynote Address
I'm very honoured to be here to launch this Guide today, and thank you for inviting me. The Race Equality Guide is not only necessary, but it is an excellent example of good practice in supporting as well as encouraging progressive race equality measures.
I have been 17 years in this area of work, working with national and regional government, international organisations, private and public sector groups, migrants and ethnic minority people from a wide range of groups. There are 3 key things I have learned about making progress on race equality:
There is no one-size-fits-all answer. Racism adapts to local contexts and structures. Every country and every sector has to develop good practice and share it for real progress to be made.
Race equality has to become part of our way of doing things. It is not a time-limited project, and it is not finished, because we are undoing centuries of barrier-building and undoing them in a world which does often not want to acknowledge those barriers exist at all. 
There is a reason that Black and Ethnic Minority people are 5 times more likely to identify racism in the workplace than their colleagues. Not only do white employers and employees not experience racism in the majority, we don't naturally see it either. We have to be prepared to view our institutions and practices in the workplace as more likely to perpetrate racism than not, and approach that problem openly and determinedly. And we have to be prepared to champion that work in a wide range of forums.
Thank you to all of the team in the DCU Centre of Excellence and the Race Equality Forum behind this Guide and the incredible work that has gone into it in the last months. The importance of this tool is not just in what it sets out to do in, but also in what it acknowledges:
A highly stratified labour market
Job precarity, financial precarity, and reduced choice in the labour market
And it draws on lived experiences of those in the labour market who have been affected by those barriers. It highlights the necessity of working in partnership with those with lived experience in order to understand and breakdown those barriers.
It is very important to say that this work is not optional – our society depends upon it, our business sectors depend upon it, our employers depend upon it. Yet too often it's painted as an extra. Race equality in work is not something we can do, or should do, its something we MUST do. There are hard truths about segregation in the Irish labour market which have to be faced. There are legal protections for employees from racial discrimination, but too often discrimination is so embedded into the structures and practices of the labour market here that they cannot be unpicked and identified as single cases of discrimination. Our problem is not just conscious bias, or even unconscious bias, it's the very structures we have built in order to do business. And the fact is that those structures do not have to discriminate for us to be effective in business. Rather, they are often shaped by a historic legacy which is not fit for the current world of work.

The segregation which currently exists in the Irish labour market is a series of barriers which are preventing workers from taking up jobs for which they are qualified – sometimes overqualified – and experienced, and preventing employers from benefiting from the wide pool of talent available in this country. We can think too not only of ensuring we get full access to our currently qualified pool of applicants, but of accessing tomorrow's talent and ensuring employers can access them early and fully for maximum development opportunities.
Work is – I think it is widely acknowledged – first amongst equals in both measures and means of integration. Not only in terms of entry to the labour market but also in pay, promotion, income security, and working conditions. Integration is not a one-stage project for newcomers either, it is an ongoing project for the whole of a society, because our world changes every day, to ensure that all groups have opportunities to contribute and to benefit. The world of work offers us opportunities for stability, for respect, for social status, and for social relationships – all of these are crucial to an equitable society.  
For this reason, I am also really pleased to welcome the establishment of the Race Advisory Council. This is partnership in practice, and it's something we hopefully we see a lot more of in future. I wish you the very best for your work, and I know that the discussions that you have will be enormously useful in extending the work started here.
I started by saying that we have to view our institutions and practices in the workplace as more likely to perpetrate racism than not, and approach that problem openly and determinedly. One of the things that has most impressed me in this Guide is the way in which it encourages and supports employers to practice authenticity and openness in their approach to race equality work. It is this which, for me, enables us to move beyond race equality as a 'fix' towards race equality as a mode of doing business.
Once again, congratulations to the DCU Centre of Excellence and to your Race Advisory Council for the production of this new Race Equality Guide, and many best wishes for the future work to follow. Beir bua agus beannacht libh go léir.