Good news for race equality in Irish universities and colleges.

The Higher Education Authority Anti-Racism Principles have been signed over the last few months by many Universities and HE Colleges across Ireland after approval by their Governing Bodies, including University College Cork , University of Galway, University College Dublin, University of Limerick, Technological University Dublin Technological University of the Shannon, Atlantic Technological University , South East Technological University, Dundalk Institute of Technology , Carlow College, St Patrick's, National College of Ireland , and MIC.

These commit each University or College to acknowledge inequalities and racial discrimination in higher education, and to embed a culture of race equality across their institution.

These principles were developed by the HEA with higher education stakeholders following the 2020 report which highlighted racial abuse, discrimination and salary gaps affecting minority ethnic staff in higher education.

Recommendations in the report by Marta Kempny and Lucy Michael were across eight areas – supporting diversity in staff, supporting diversity in student recruitment, making race/equality policies transparent, reporting mechanisms, awareness and training, fostering diversity in HEIs, leadership and data collection

Senior leadership in HEIs were most commonly identified as the group most critical to the process of improving race equality in higher education and there is an opportunity for real evidence-informed leadership in this area by HEIs. High level commitment is crucial.

Huge thanks to all in the HEA staff and voluntary working groups who injected so much energy into this. We have been privileged to play a supporting role in the research. All credit now goes to the teams across each University that are implementing the HEA Race Equality Plan.

Pictured: screenshots from announcement of signing at ATU, SETU, NCI, ATU, UCD, UCC, TU Dublin, and TUS.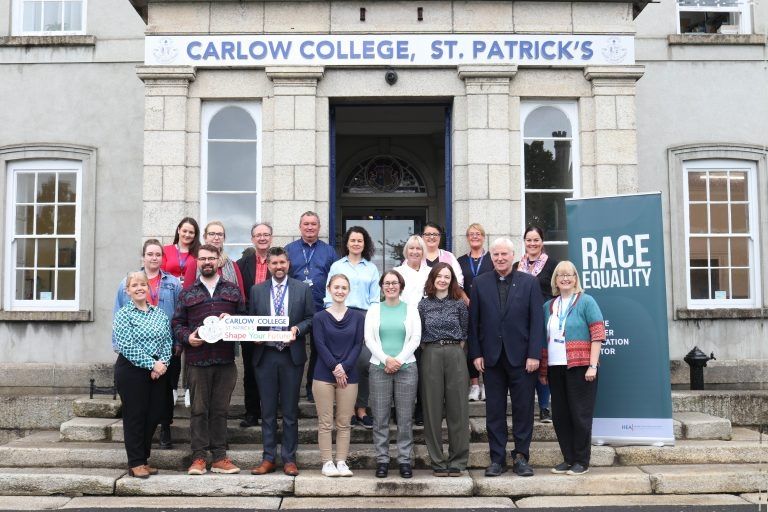 Tus https://tus.ie/tus-signs-hea-race-equality-anti-racism-principles/
Tu Dublin https://tudublin.ie/explore/news/tu-dublin-signs-anti-racism-principles-for-higher-education.html
ATU
https://www.atu.ie/news/atu-commits-to-combat-racism-by-signing-heas-race-equality-anti-racism-principles
NCI
https://www.ncirl.ie/News/ArtMID/748/ArticleID/890/NCI-signs-anti-racism-principles
SETU
https://www.setu.ie/news/setu-president-signs-hea-anti-racism-principles
Mic
https://www.mic.ul.ie/news/2023/mic-signs-hea-race-equality-principles
Carlow college
https://carlowcollege.ie/news/carlow-college-signs-hea-race-equality-anti-racism-principles/
UCD
https://www.ucd.ie/equality/information/raceandethnicequalityinucd/
University of Galway
https://www.universityofgalway.ie/equalityanddiversity/raceequality/anti-racismprinciples/#
UCC
https://www.ucc.ie/en/registrar/news/signing-of-anti-racism-principles-for-irish-higher-education-institutions-.html
UL
https://www.ul.ie/equality-diversity-inclusion/equality-diversity-inclusion-0/standing-together-embracing-diversity