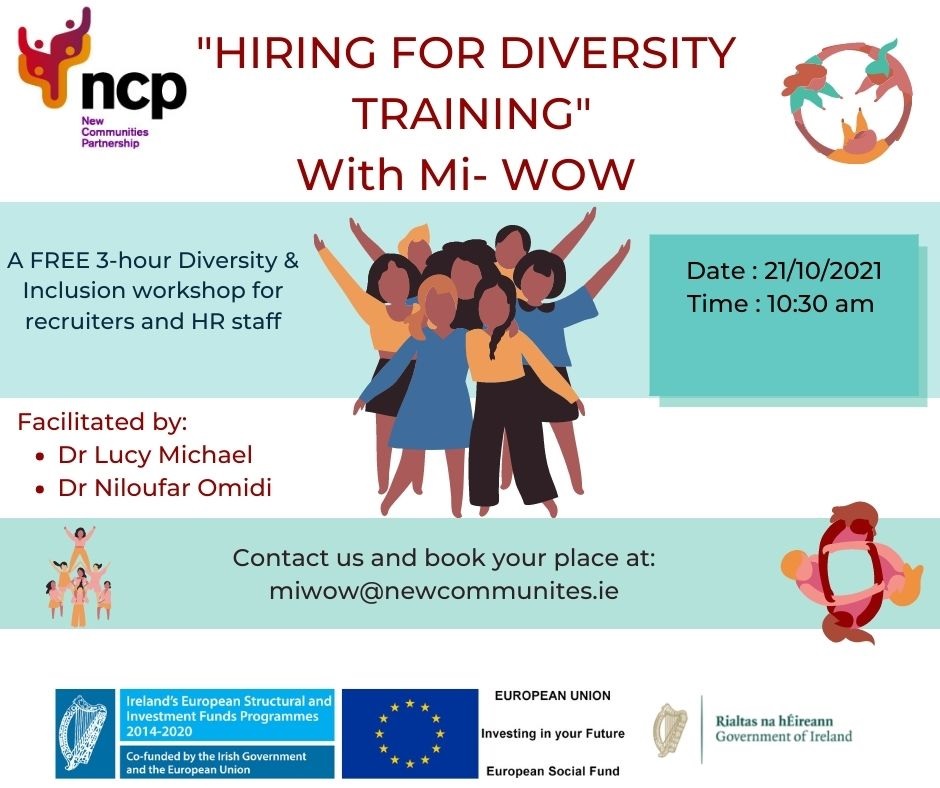 Training for employers and recruiters from New Communities Partnership Mi-Wow (Migrant women into work) Project
We will be delivering a free 3 hour introduction to recruiting diversity of talent, handling qualifications & work permits, addressing equality issues and benefitting from diversity in your team. Group size is limited to 15, to ensure a truly interactive training focused on your learning needs.
Next Dates:
21st October, 10.30am – 1.30pm, online
7th December, 10.30am – 1.30pm, online
Register by emailing miwow@newcommunities.ie
Feedback from previous participants:
"Thank you; this was incredibly helpful. I really liked that it was so orientated towards things we can do as institutions, as individuals who have a part in shaping the institutions, and as individuals inside institutions."
What will you learn? Here's what one participant told us were his takeaways:
1. Speed creates bias – Given also that unfamiliarity leads to high anxiety, has your hiring for diversity been well thought through, with robust process and criteria, and definitely not rushed?
2. Systems must help – Both organisational recognition and local mapping of foreign qualifications, and knowledge of work permits are critical. Is your application system currently providing sufficient opportunity for additional narrative, also around experience?
3. End-to-end inclusion encouragement – From the job spec through to the interview form and beyond, is your hiring process encouraging an inclusive approach throughout?
Final thought. When workplace teams reflect their target customers, the entire team is twice as likely to innovate. Fact.

We look forward to meeting you in our next training!