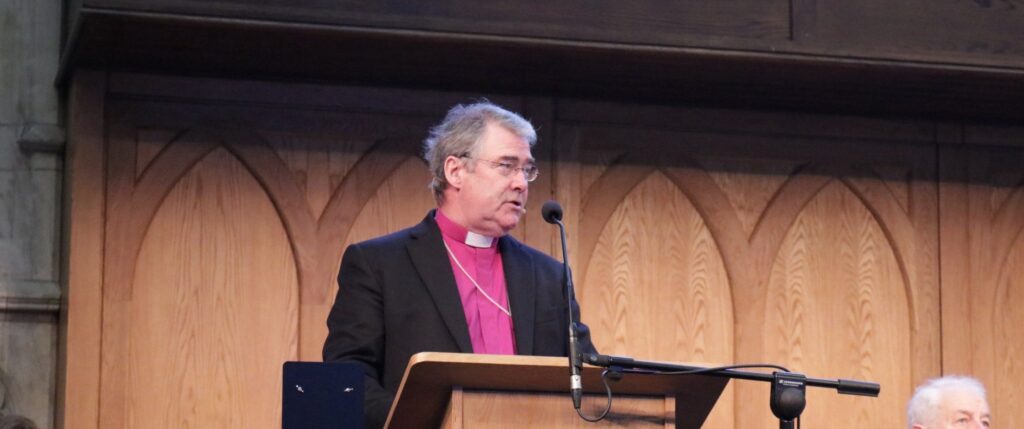 We recently conducted a survey on behalf of the Archbishop of Armagh amongst members of the Church of Ireland, seeking views and examples of good practice on Ethnic Diversity, Inclusion and Racial Justice matters.
The survey results have been shared with the Archbishop and working group, and recommendations are now being developed for the Church to consider.
At the recent General Synod (the annual all-island decision-making meeting of the Church), the Archbishop shared some of his thoughts on the survey results, where he addressed issues of welcome, inclusion and historical acknowledgement.
The Archbishop's speech (section on survey only – full speech at https://www.ireland.anglican.org/news/11313/general-synod-2022-presidential-address
"You may remember that last year I mentioned a piece of research into ethnic diversity, inclusion and racial justice in the Church of Ireland that I had commissioned. The research project was designed by Dr Lucy Michael (a member of this Synod for the Diocese of Dublin) and in collaboration with a small group of clergy and readers from a range of ethnic backgrounds. The results of the research survey have been written up over the past week or so and will, I hope, form the basis of some practical work closer to the ground which will be planned and rolled out in the coming year. As I have said repeatedly in General Synod and elsewhere, any family (and the Church of Ireland is a family) derives its vigour and interest, not from the family resemblances of its member's, but from the differences that exist between them, including differences of ethnicity and colour. The results of the survey show that we are indeed a welcoming Church, but also that we are hesitant about what to do after we've said "hello".
To generalise from what I have been able to take in from the hard data of the survey, it seems we are more likely to go on to say "I hope you are able to enjoy the riches we have on offer", rather than "tell us about your experience of God and your thoughts about his Church and his World", much less "how can you help us deepen our experience of these things?". I think the results of the survey show that we recognise the benefits of inclusion, but are uncertain about how to turn that recognition into meaningful participation. We need to do some work on that.
Although perhaps not the finding of the survey with the most far-reaching implications, the one which stands out most prominently is around an insufficient acknowledgment by the Church of our entanglement in the past with slavery. As far as I can tell it's not a statue-destroying militancy, but a heartfelt desire for an understanding based on accurate facts and an appreciation of the legacy that the gruesome reality of slavery has left. Nor is it about the "enormous condescension of posterity" (there is also an appreciation of the part the Church played in the abolition of the slave trade) but an appeal for clear-eyed appreciation of our actions and inactions in the past, and a willingness to address them.
Up until now this project has been something of a personal initiative of my own but the aim is to embed it much more widely throughout the Church of Ireland. This work is important for a number of reasons, not least perhaps in helping us explain to ourselves why, in a world of migration, the numbers of people of different race and colour, are very low in the Church of Ireland. It is true that many may not be Anglicans when they come to Ireland. But it is known that migrants are much more likely to "shop around" for a spiritual home when they arrive in their adoptive country. It might be useful to know why people have popped their heads around our shop door and decided "it's not for us".
But it's important for a much more fundamental reason, which is that, regardless of numbers, Christian pastoral ministry is about the spiritual well being of every individual. And to do that we need to make the effort to see what other people see and hear what other people hear. It is not only the Anglican Communion that is held together by bonds of affection, but each parish and faith community. And in this instance, as I've said repeatedly, it means that we can credibly consider ourselves as fully part of the Catholic Church. As disciples of Jesus Christ we are not free to satisfy all of our appetites but we have a vocation to satisfy the desire for knowledge and understanding which the survey reveals. I look forward to the work which we can do in the year ahead to make this more of a reality.